"All things come to those who wait" can certainly apply to great cooking. However, in this fast-paced world of responsibilities and looming deadlines, it is not always possible to devote much time to meal preparation. While you want your Easter, Thanksgiving, and Christmas meals to be expansive masterpieces, not every meal has to be divine. With that said, here are tips you can use to get your cooking done faster without simply turning up the heat and compromising quality.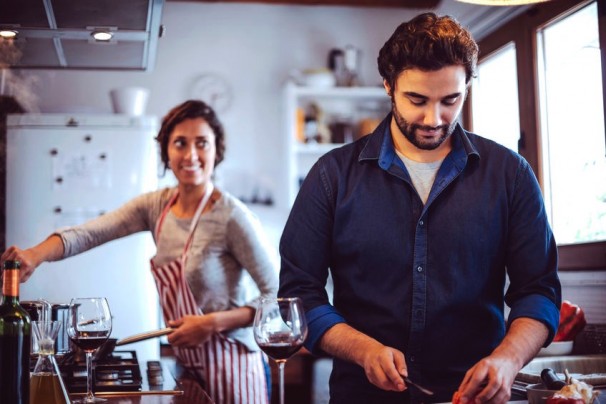 Read the Recipe
This might seems rather basic, but many people often just skim the recipe and then have to run out to buy missing ingredients. Read the recipe from beginning to end, and make a note of everything you will require, as well as how long the meal will take to prepare and cook. Perhaps a particular recipe is best left for the weekend, rather than tackled after work on a Tuesday.
Shorten Your Preparation Time
You should never go into battle without a plan and you need to think ahead when planning meals. Assemble all of the ingredients you will need the day before. If you cannot do any additional advance preparation, at least be sure to have equipment on hand to make the job easier. This includes sharp knives, measuring cups, spoons, spices, oils, and other items you use frequently. Keep them organized in a nearby drawer and/or cupboard.
Accessible Pots and Pans
Just as important as knowing what you are making is know what you are making it in. Have all of the pots and pans required for the meal cleaned and ready to go beforehand. Don't waste prep and cooking time going through your oversized collection of utensils trying to find the right instruments. If possible, emulate television's master chefs by having your pots hanging on hooks for easy access.
Give Yourself Room to Work
Your kitchen may not be a disaster area (well, not most of the time), but you still need room to work, so everyone not involved in the operation must retreat to the perimeter! Listening to music while you work is fine, but remove all other distractions. Not having your mind on your work can not only waste time, but also lead to accidents: never wear loose clothing while cooking and do not leave food unattended.
Make Extra Food
If you are single and the recipe is for a family of four, don't be afraid to make the full recommended amount. This might take a bit longer, but think about it: you can freeze the rest and there will be three evenings where you don't have to cook at all!
Stick with What Works
Think about the meals you have made that turned out very well and were quite easy to cook. These are handy go-to options when you want to prepare something nice, but don't have a great deal of time. Practice makes perfect, so chances are, these old reliable favourites will rank among dishes that your guests enjoy the most.
Need new appliances on which to practice your improved kitchen technique? Visit Danby's online showroom to see our latest appliances and their specifications. Need more information? Call our knowledgeable team at 1-800-263-2629. We love to help!
Image Copyright: klublub / 123RF Stock Photo