Do you find you are spending too much on groceries every week? Are you wasting food because you forget it is there, and then it goes bad? Are you cooking for one and have trouble portioning your meals?
Too many people find they are wasting food or buying things they do not need because they are not taking advantage of the benefits of meal planning and their refrigerator. The good news is there are simple things you can do to save yourself time, effort, and money when it comes to groceries. Let's start with five of the simplest and most effective methods.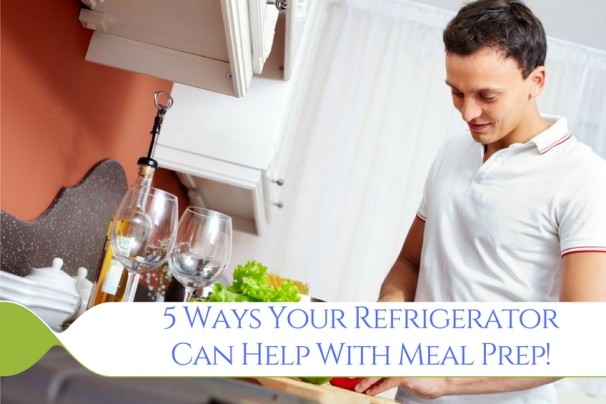 Start With a Plan
First things first: you need a plan. Without a plan, even trying to follow the other tips in this article can fall by the wayside. Thus, look at the food you have already. Use this as a chance to throw out anything that has gone bad. Are you lacking any staples like milk, bread, eggs, or pasta? Make a note. Once you know what you have, you can start to create a plan for what you want to eat. In turn, this identifies what you are missing. Also, consider how much space you have in your refrigerator.
Cook in Bulk
One of the major ways in which you can save time and effort with the help of your refrigerator is by cooking in bulk. For instance, many pasta dishes will last for a few days after you initially cook it if you store the pasta in the refrigerator. You can also cook bacon ahead of time and store it in your fridge if you want to use it in dishes like salads or wraps. This way, it will not go bad as raw meat.
When you cook in bulk and store your meals in your fridge for consumption later, you will save yourself some time and effort in the future. You do not have to cook your pasta sauce from scratch the second time around! Just put it in the microwave or reheat it on the stove.
Use the Freezer
Does your refrigerator have freezer space as well? If so, use it! You can freeze a lot of food, both prepared and not, to save yourself time, effort, and money in the future. Many people freeze chicken breasts, ground beef, and similar meats. Be sure to freeze these foods two days before their best before date, particularly raw meat, so you have the time to thaw your food before cooking it. Beyond raw meat, you can cook and freeze whole meals in your refrigerator's freezer space. This includes cooked rice and pasta, as well as fruits and vegetables.
Organize Your Space
Another way in which your refrigerator can really save you time and effort in meal preparation is all up to you: you must organize your space. Most people will not eat things they cannot see, so this means using clear containers and ensuring you know what is at the back of your fridge.
Invest in the Right Containers
Speaking of food storage, why not consider investing in some clear glass containers? When you purchase quality glass containers, they are airtight, which keeps your food fresher for longer, and they are also microwave-safe, so you can reheat your meals in the microwave without dirtying more.
Image Copyright: pressmaster / 123RF Stock Photo