Canadians have spent a lot of time at home over the past year. A good chance to refresh your summer outside your comfort zone.
You might have given your home office a facelift, but what about your outdoor space? Even apartment balconies can become an oasis while stuck at home.
With summer approaching, now is the time to think about making your outdoor space worthy of entertaining — at least when it's safe to do so.
"Now that we are all staying closer to home these days, it's the perfect opportunity to make the most of your deck, yard or patio space with Danby's Outdoor Fridges," says Jim Estill, Danby CEO.
You can elevate your bland patio or deck into super-host status with an outdoor fridge that lets you spend more time outside, while keeping your cold drinks, barbecue staples and summertime snacks all in easy reach.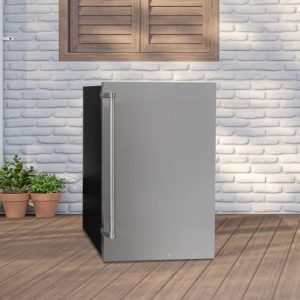 But before you consider hauling your refrigerator outdoors, keep in mind that outdoor fridges are made differently than the unit in your kitchen.
These appliances have to maintain consistently cold temperatures in a constantly fluctuating environment, plus they require additional insulation and more powerful compressors to keep everything cold. They typically include rust-resistant surfaces, waterproof electrical housing, and even UV protected plastics in some cases.
"Outdoor fridges are meant to last longer outside," adds Estill. "They are designed to withstand the elements."
If you're ready to make your outdoor space more desirable with an addition of a fridge, ask yourself a few questions before you decide on a model.
How you'll use it
Are you going to use it only for drinks? If you're planning to keep food in it, make sure you get a model that can be set to 4 C or below.
"Also make note of the ideal temperatures for drink storage," says Estill.
For beer, that's between 10 C – 13 C; for wine, between 10 C – 15 C.
How it will fit in your space
Never go shopping when you're hungry. Well, that also rings true when shopping for refrigerators. First, make sure you have the space required. Luckily, Danby outdoor fridges come in different sizes to easily fit your configuration.
You can also opt for a built-in unit under the counter in an outdoor kitchen if you have proper ventilation. Freestanding units don't have the same strict ventilation requirements.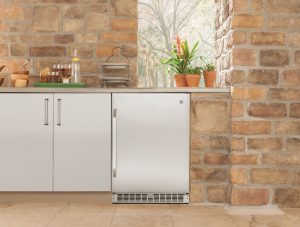 Where to place it
You've got it outside: now what?
Placing the fridge in direct sunlight will cause undue stress on the compressor, which could mean using more electricity to regulate the temperature. Outdoor models will function well in 4 C – 38 C weather, but if you want to continue using your outdoor refrigeration units in winter, you'll need to move them to your garage.
Which model is right for you?
Danby's Freestanding Stainless Steel Outdoor Refrigerator is versatile and efficient. With 4.4 cubic feet of storage space, you'll always have room for your favourite craft beers and ciders, soda, and even a few fruits and veggies in the crisper. Perfect for the lake house, and just as perfect on your condo balcony.
This Outdoor Compact Refrigerator can easily meet your family's needs with 3.3 cubic feet of storage and cooling space — more than enough room for larger bottles. With four rust-resistant castors, you can easily move the fridge around from space to space or store it easily in the winter.
Also available with an outdoor version is Danby's popular Contemporary classic.
All models are Energy Star compliant — which will help keep your electricity bills in check —and tested for cooling capacity in a tropical environment. For built-in options look at Silhouette by Danby's line of outdoor refrigeration.
Grab your lounge chairs, a couple of drinks, and visit danby.com to learn more about compact and outdoor refrigerators.
Original blog content can be found here.
Not yet following us on social media? Check us out on Facebook, Twitter, Instagram, Pinterest and LinkedIn, or subscribe to our YouTube channel!