Natural cleaners are both safe and effective in cleaning everything in your home, from floors to appliances. They save time and money over expensive commercial products, with none of the chemical ingredients that are harmful to your health and the environment.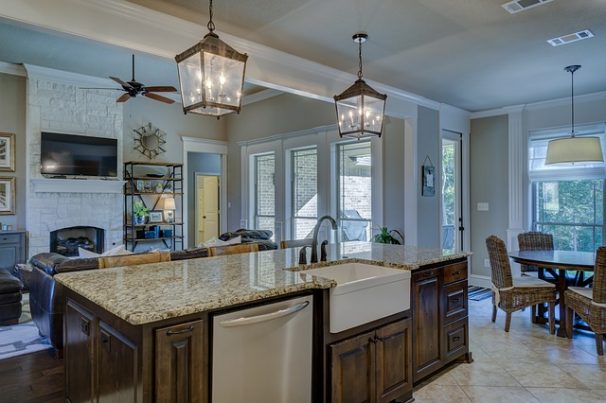 Below, we'll show you how to make 5 natural cleaners that will keep your family and pets happy and healthy.
1. All-Purpose Spray Cleaner
Simply put these 3 ingredients into a spray bottle:
1 cup of vinegar
2 tablespoons of a natural eco-friendly dish soap
7 drops of tea tree oil, or any other essential oil such as lemon, lavender, or orange
Fill the bottle with distilled or boiled water and shake to combine. To use this all-purpose natural cleaner, just spray and wipe to a clean shine!
Tip: Tea tree oil has the added benefit of being an insect repellent. Mosquitoes, ants, spiders and fleas hate the scent!
2. Homemade Soft-Scrub Natural Cleaner
In a bowl, mix:
1 ½ cups of baking soda
1.2 cup eco-friendly dish soap
10 drops of essential oil such as tea tree, lemon, or lavender
Combine the ingredients and mix to form a paste. Store it in an airtight container.
This cleaner's gritty texture is perfect for scrubbing away stains and mineral deposits in any room, especially the kitchen and bathroom. Plus, it leaves behind a fresh scent that makes the room feel as clean as it looks.
Tip: If the mixture begins to dry out, just add a bit of water.
3. Spot-Free Natural Glass Cleaner
Combine these ingredients in a spray bottle:
2 cups of water
½ cup vinegar
¼ cup rubbing alcohol
1 tablespoon of cornstarch
1-2 drops of orange essential oil
Give the bottle a good shake to mix in the cornstarch, which is added to prevent streaking. Your windows will be as clear as a crisp spring morning.
Tip: Don't clean windows on a hot day! The spray will dry too quickly and leave streaks.
4. No-Residue Natural Wood Floor Cleaner
In a bottle, combine:
¼ cup olive oil
1/3 cup white vinegar
5 cups of hot water
12 drops of lemon essential oil
Tip: Be sure to sweep or vacuum the floors before you begin! This cleaner works best on surfaces clear of dirt, crumbs, or other debris.
5. All-Natural Wood Furniture Polish
Combine these ingredients in a bottle:
¾ cup olive oil
¼ cup white vinegar
30 drops of lemon essential oil
Dip a polishing cloth into the mixture and apply to the wood surface. Follow by wiping with a lint free cloth, polishing in a circular motion. Then, stand back and admire the results!
Tip: Since these cleaners have natural ingredients, you can safely reuse the container afterwards. That ensures that they do not end up at the local landfill.
Choosing to make your own natural cleaners will have long-term benefits for your health and the environment. Your reward will be a safe and clean home!