The elegant, professional line from Silhouette now has exciting new features!
In-home entertaining is on the rise. More than 50% of Americans prefer to stay home and entertain, rather than go out. From online shopping to take out apps, to working from home and movie streaming, it seems people prefer to do nearly everything from the comfort of their home – including socializing.
Enjoy the convenience of home, with the experience of a bar. Create a comfortable & intimate environment to socialize with friends without the expense of going out, with the new Silhouette Professional Generation 2 line-up
Silhouette Professional has launched a 2nd generation of their wine coolers and beverage centers, equipped with the latest features and technology to support the finest in home entertaining.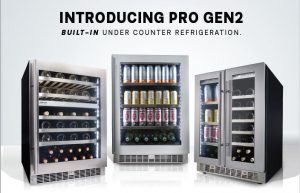 You'll love showing off your wine collection with these built-in under counter models. The Generation 2 line-up includes a wine cellar, beverage center and our ever popular French door beverage center, the perfect His & Hers compromise with half wine and half beverages.
In addition to the original features that made Silhouette Pro one of the top brands in North America, we have taken this product to the next level adding exciting new features, such as new contemporary controls, expanded lighting options, hidden hinges for a sleeker look and an integrated door lock for security.
Newest Features:
Controls
The control panel features a modern back-lit glass panel with seamless capacitive touch interface. The units offer numerous display options, such as showroom and Sabbath mode, as well as multiple lighting options.
Lighting
Introducing perimetrical lighting, LED strips that run the length of the cabinet to illuminate each shelf. Choose between arctic white or azure blue.  Let the lighting reflect your mood – brash and bold at 100% illumination for a house party or soft and subtle at 50% illumination for an intimate dinner party.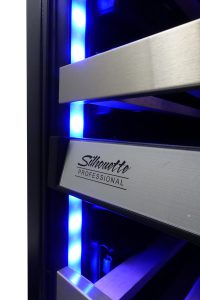 Door Hinge
The seamless hidden hinge is integrated into the door frame and when in use, it articulates to move the door frame away from the cabinet gable for smooth fit.  As always, the doors are field reversible allowing the customer to choose between a left or right hand swing
Discreet Lock
The integrated door lock secures the contents inside, keeping your collection and children safe. A discreet lock is located at the base of the fridge nestled into the toe-kick.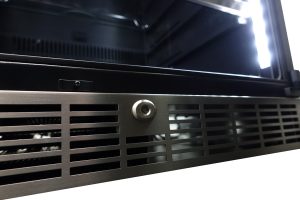 Additional features include: Pro-Vection Cooling, Natural Wood Shelves with Stainless Steel Trim (SPRWC053D1SS), Extended Ergonomic Handle, Quiet Operation (39 decibel), Low Temperature of 34F (SPRWC056D1SS/ SPRWC053D1SS).
Silhouette Profession Generation 2 models will be available in Q2 2020. Visit www.silhouetteappliances.com for more information.