Space-saving appliances let you live large no matter how modest your home.
Is your home beginning to feel more small than cozy?
A year has passed since we transformed our homes into offices, restaurants, classrooms and movie theatres — you might be feeling a little cramped these days.
Luckily, you can find products from Danby Appliances that can make the smallest spaces breathe again.
"We specialize in making small appliances that are perfect for small spaces," says Jim Estill, Danby CEO. "Our apartment size fridges, freezers, washer/dryer combo, dishwashers, and ranges are all designed to make your home more functional without taking up too much space."
Here are a few tips to make every inch count at home.
Smaller appliances
Refrigerators: Danby's apartment size fridges come with a smaller footprint but feature extra shelving to help maximize space. You can also optimize your refrigerator space with an all-refrigerator style — without a freezer compartment, these units will help you store all your favourite foods. Danby also offers a wide range of compact refrigerators for even smaller areas. Great for home offices, basements and anywhere easy access to drinks and snacks are needed.
Freezers: You can find a Danby compact chest freezer with as little as 3.5 cubic feet of storage space to fit even the smallest area. Chest style freezers also offer more usable space for large items that otherwise might be too tall or wide for upright freezers.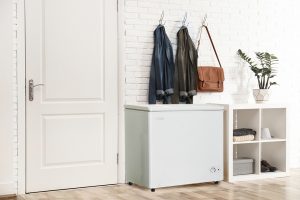 Ranges: Danby ranges are only 24 inches wide to save some valuable space in your kitchen. The spacious 2.9 cubic-foot oven still offers plenty of room to help you bring out your inner top chef.
Multi-purpose products
Who has the counter or cupboard space for so many appliances? Save space by combining them into one super product.
The eight-in-one toaster oven: Danby's newest product is the ultimate space saver. You can choose from eight pre-programmed cooking functions: air fry, toast, bake, cookie, broil, pizza, dehydrate, or warm.
"It does the job of so many different appliances — an oven, microwave, toaster, dehydrator, and air fryer," adds Estill. "Think about all that extra counter space you'd get back."
Five-in-one microwave: Danby's multi-purpose microwave offers five options to cook your food: microwave, broil, roast, bake, air fry, or combination cook. Start with something as simple as perfect popcorn, and then master the convection roast or bake function that can reach anywhere from 100 – 425 F.
All-in-one washer dryer: Even small spaces can fit Danby's 2.7 cubic-foot washer dryer combo — the front-load design provides even more options when it comes time to store it. The smart washer will even remember your customized washing cycle for next time.
Portable appliances
Are even your small products getting in the way? Danby offers a line of portable appliances you can simply store away when not in use.
Countertop and portable dishwashers: Countertop dishwashers are perfect for smaller homes and apartments. But, if you don't even have free space on the countertop, a portable dishwasher allows you to hide it away after using. These dishwashers don't require a permanent connection — just connect to your kitchen sink when needed.
Portable washing machine: Make trips to the laundromat a thing of the past. Danby's portable washing machines can be easily connected to most standard faucets, without the need for direct plumbing. The rear rollers and compact sizes make it easy to store the washers between loads.
Portable air conditioner: Don't have your own swimming pool? There are other ways to beat the heat this summer — like Danby's line of air conditioners. Portable units offer some versatile advantages, like being able to move it from room to room as needed and storing it away when the weather cools down.
For more on these products, and other space-saving appliances from Danby, visit danby.com.
Original blog content can be found here.
Not yet following us on social media? Check us out on Facebook, Twitter, Instagram, Pinterest and LinkedIn, or subscribe to our YouTube channel!