Many of us know that cooking at home is less expensive, on average, than going out to a restaurant to eat, getting takeout, or ordering delivery. This is often because you can use ingredients for more than one thing (e.g. extra peppers for a different meal the next day), make extra portions and eat leftovers. The cost of ingredients at the grocery store also has less markup than a meal at a restaurant.
However, the question of whether or not it is better for the environment to eat at home is a lesser known one. In this article, we have compiled some elements that will help determine an answer to this question.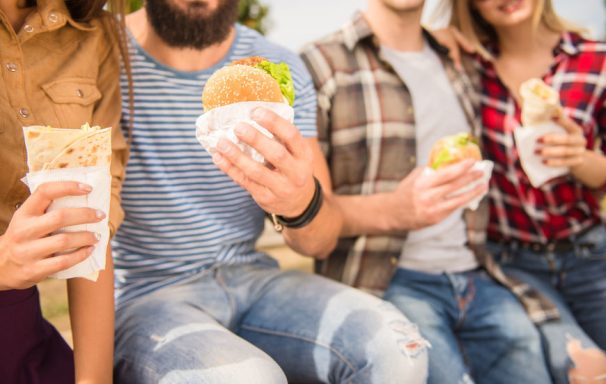 Takeout Containers
If you order takeout, you will have at least one takeout container to deal with. In some cases you will be able to recycle the container, but depending on the material the restaurant uses for their containers, this may not be possible. For instance, many Chinese and other Asian restaurants use Styrofoam plates on top of their containers—these can only go in the trash, adding to the landfills. In addition, many takeout orders come with additional items like plastic cutlery and paper napkins. These are all unnecessary items and things you do not have to handle when you cook and eat in your own home.
Excess Packaging
When eating at a restaurant, particularly fast food ones, you tend to encounter a higher amount of unnecessary packaging. This includes the takeout containers as previously mentioned, but also the paper, foil, plastic bottles for drinks, plastic cutlery, paper napkins, and more that come with your food when your order is ready.
At home, on the other hand, you can use metal cutlery and ceramic plates, both of which you can wash and reuse for a subsequent meal. Instead of paper napkins, at home you can use cloth ones instead. Once again, this allows you to wash and reuse the items accompanying your meal instead of adding more waste to landfills.
Use Less Energy and Resources
When you cook at home versus going out to a restaurant, you are going to use less energy. While the cost to produce the ingredients may be the same, restaurants often add more transportation expenditures, which include higher energy and resource costs. The use of more energy and resources is harder on the environment.
Delivery is a prime example of how eating food from a restaurant is harder on the environment. Instead of just getting your weekly groceries and cooking at home, ordering delivery from a restaurant means they have to make the food there before contracting a delivery driver to bring the food over to you. The time, energy, et cetera it takes for the driver to bring your food increases the impact your meal will have on the environment.
Eating at home gives you more control over the products that accompany your meal (both during the cooking process and afterwards), as well as the ability to use less energy and resources overall when you cook your meal. As such, it is clear that if you pay attention to the process, dining at home can be significantly better for the environment than eating your meals at a restaurant or ordering food in.
Image: vadimgozhda