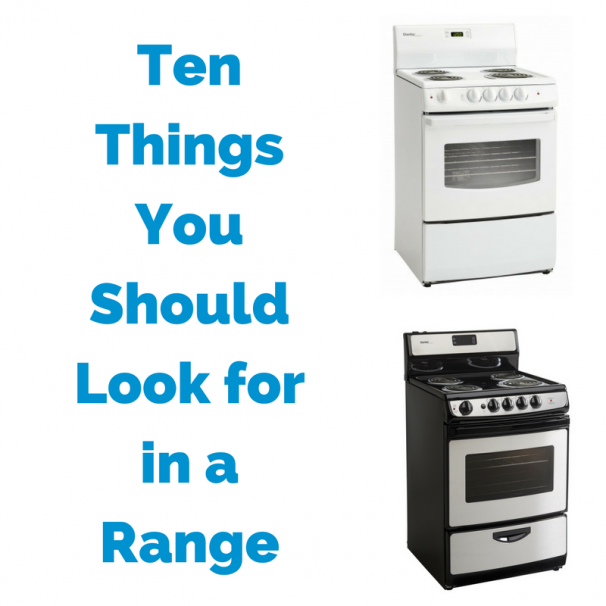 Whether you are redesigning your kitchen or simply looking for an upgrade, you will eventually need to purchase a new range. Today's models have a lot to offer, so that can mean some homework on your part. Here are ten things you should look for in a range:
Type
Do you need a range that is free standing or do you want one that will fit into a particular countertop design? Also, make sure you to do your measurements beforehand.
Gas or Electric?
Both have their strong points. Which one of them is better suited to your home and energy plan? Gas ranges are generally more expensive to purchase, but cost less to use in the long run.
Convection or Induction?
Convection ovens circulate air within the oven. This allows food to cook faster and more evenly. They are pretty standard now, but not every model offers this feature. On the other hand, induction models heat the pan rather than the surface of the oven. The burner does not get hot, which is an excellent feature for homes with small children. However, this type does require the use of certain cookware.
Size/Capacity
Do you live alone? Do you have a large family? The number of people you are cooking for is an important consideration when choosing the size of your range. You should allot one cubic foot of space inside the oven for every person in your home.
Control Panel
Are you a traditionalist who likes the control panel at the back of the unit? Or do you prefer to have the control panel right at the front, so that the oven does not have anything blocking the area behind it?
Burner Sizes
A variety of burner sizes allows you to match the size of your pots. Matching the size as closely as possible helps to save energy.
You Clean or Self-Clean?
No matter how good a cook you are, some of your food will inevitably spill on top and inside the oven. Some ranges require you to tackle cleaning manually, while some have a self-cleaning function. This heats up the oven enough to loosen baked on foods so you can easily wipe them away.
Multiple Rack Positions
The more rack positions in your oven, the more dishes you can cook at one time. This is an important consideration if you like to make elaborate meals that features several things requiring oven time.
What Sort of Top?
In addition to the classic style of four burners, you can also choose a range with a smooth top. The glass-ceramic cooktops looks quite nice, but be warned: you can scratch them and only certain types of pans are suitable.
Professional or Non-Professional?
Have you ever peeked inside a restaurant kitchen and saw the ranges they use? As you would expect, they are multi-burner affairs that allow the cooks to make several meals at once. Chefs with large families or the desire to make a number of dishes at the same time can opt for a professional model. However, these are quite expensive and proper ventilation is a must.
In the market for a new range? Check out Danby's line of ranges, which are available in electric and gas models, and perfect for both homes and apartments!