Booming sales of fridges, toasters, and microwaves to households across the locked-down world have helped propel China's manufacturing engine back to life, super-charging demand for key metals like steel, copper and aluminum. This jump in COVID-19 demand, along with rebounding production of cars, trucks and other products, has revived manufacturing in the world's second-biggest economy, sharply boosting metals consumption in the top steel, copper, and aluminum market.
The manufacturing rebound marks a turnaround from the first half of the year, when the response to the pandemic that emerged in central China was a building and infrastructure boom that propelled construction-grade steel to a rare price premium over costlier manufacturing products.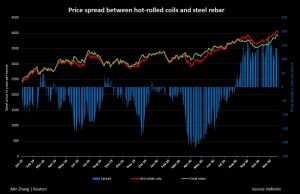 China's factory activity jumped the fastest in nearly a decade in October, according to a private business survey, with nearly one-third of surveyed companies expecting further improvement in 2021. Both domestic production and exports of home appliances are running ahead of last years levels, and have jumped since the third quarter on widespread restocking in major global markets like the US and Europe. Since China ended its lockdown in May, their output of fridges jumped by 25% from the same period last year and freezer output soared nearly 80%, according to National Bureau of Statistics data. Washing machine, TV, and vehicle output also increased.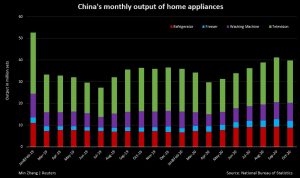 China's output of crude steel and primary aluminum struck daily record highs in September, with daily refined copper production matching its pre-pandemic peak, as metal makers rushed to meet the robust demand from manufacturers. The near-term outlook for both base metals is positive, despite high production, with low inventories driving copper prices to a more than seven-year high.
Televisions, washing machines, microwave ovens, and other home appliances are also going to get costly this month due to a 15-40 per cent increase in input costs. It is anticipated that washing machines and air conditioner prices may go up by 8-10 per cent, and the rates of refrigerators might witness a spike of 12- 15 per cent. Copper, zinc and aluminum rates have been increased by 15-20 per cent in December, while ocean freight cost has risen 40-50 per cent.
The cost of television panels is up by 30-100 per cent due to global storage, and plastic's cost has climbed by 30-40 per cent. The price of MDI, a chemical used in making foams (used in refrigerators and chest freezers) has shot up 200 per cent.
The Bureau of Energy Efficiency (BEE) has postponed energy labelling upgradation norms for ACs by a year to 2022, which has helped as any tightening leads to a price hike. Refrigerator energy label norms too will only be upgraded in 2022.
Appliance stores are grappling with surging demand and supply chain problems, resulting in mounting backorders ahead of the busiest shopping season of the year. Retailers say a combination of home renovations, new construction, discounts for energy-efficient appliances, and pent-up demand following store closures last spring have led to record sales.
Meanwhile, manufacturers have run into problems obtaining parts and have been forced to scale-back production to adhere to COVID-19 safety protocols. Also, industry experts are concerned the backlog of appliance orders could be exacerbated by the uptick in demand that usually starts on Black Friday in November and runs until Boxing Day in late December.
This information is pulled from articles by Reuters, Business Today, and CTV News.
Learn More in this article from Reuters.
Learn More in this article from Business Today.
Learn More in this article from CTV News.
Not yet following us on social media? Check us out on Facebook, Twitter, Instagram, Pinterest and Linkedin.