Here comes summer! That means backyard BBQs, family reunions, and cottage get-togethers. But let's face it — we don't want to spend too much time in the kitchen on a hot day. Try these light, quick party finger foods that you can make in 10 minutes or less.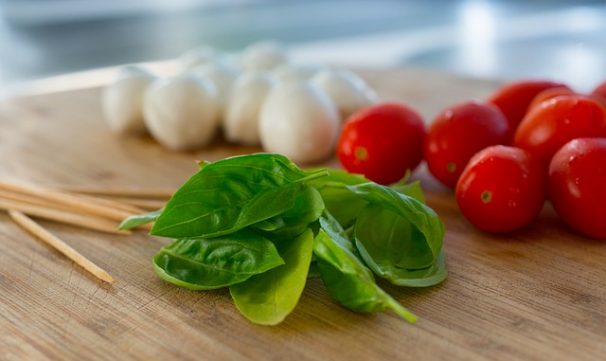 Smoked Salmon and Cream Cheese Bites
Crunchy and refreshing, these smoked salmon bites are full of flavour and totally gluten-free.
Ingredients:
1 lb smoked salmon
3 tbsp dill, fresh
2 English cucumbers
1 tbsp horseradish
1-8 oz package cream cheese
1 tbsp heavy cream
Toothpicks or tiny party forks
Peel cucumbers and slice them into 1″ circles, then arrange them on a platter. Place it in the refrigerator while preparing the cream cheese mixture.
Place cream cheese, dill, horseradish, and cream in a large bowl. Beat until well-combined. Then, spread one teaspoon of cream cheese on top each cucumber slice, topping each with a bite-sized piece of smoked salmon. Insert a toothpick down the center to keep everything in place. That's it!
Garlic Cheese Bacon Mushroom Bites
These mouth-watering mushroom bites disappear fast. Swap the bacon for sun-dried tomatoes or veggie chips for a vegetarian-friendly alternative.
Ingredients:
8 oz bacon, cooked until crispy and crumbled
16 oz white mushrooms, cleaned with stems removed (about 35 caps)
2 cups Mexican blend shredded cheese
3 tablespoons mayonnaise
Garlic salt
Combine the cheese, bacon, and mayo in a bowl. Scoop the ingredients into mushroom caps and place cheesy side up in an oven-safe dish (if you're making ahead of time, throw them in the fridge or freezer now). Sprinkle the caps liberally with garlic salt and bake at 350°F until cheese is bubbly and starting to brown.
Serve warm and enjoy!
Prosciutto-Wrapped Asparagus
You'll want to swing by the farmer's market for this one, because June happens to be the prime time to get your hands on local, in-season asparagus.
Ingredients:
14 spears fresh asparagus, trimmed
7 slices prosciutto
Lemon zest
Tear each slice of prosciutto in half lengthwise (so you have two long pieces out of one piece). Wrap it around one spear of asparagus at an angle to cover as much of asparagus spear as possible. Repeat until all asparagus spears are wrapped.
Heat a large skillet over medium-high heat. Once hot, add asparagus and cook about 2 minutes per side or until the prosciutto is crisp and the asparagus is tender.
Plate, top with zest, serve and enjoy!
Guacamole Bites
Who could say no to guacamole? Feel free to spice up this mixture with your choice of peppers.
Ingredients:
1 pint cherry tomatoes
1 bunch cilantro
1 lime
3 small/medium avocados
1 clove garlic
2 bags nacho chip scoops
Mix avocados, minced garlic, 3/4 teaspoon of kosher salt and 1/8 teaspoon of black pepper. Add freshly-squeezed lime juice to taste.
Fill each chip with guacamole and top with a slice of cherry tomato. Garnish with a piece of cilantro.
Caprese Skewers
It's like salad on a stick! These skewers are the perfect appetizer to grilled steak or veggies.
Ingredients:
1-12 oz package of buffalo mozzarella
1-12 oz package of grape tomatoes
Fresh basil
Balsamic vinegar
Cut the mozzarella balls in half. Wrap a large basil leaf around a grape tomato and a mozzarella ball half, with the flat side facing down. Stick a toothpick through the basil, tomato and mozzarella. Repeat until your plate is full, then drizzle some balsamic vinegar over the caprese skewers.
Serve and enjoy! This recipe should yield around 30 caprese appetizers.