Having a small kitchen is like cooking on hard mode. It can be tricky enough to follow a recipe without having to ration your limited counter space and battle for elbow-room. Short of building an addition or expropriating space from the dining room, you can't do much to increase your square footage — but you can make a small kitchen feel larger.
These tricks can help you maximize small kitchen space for a more functional and beautiful home.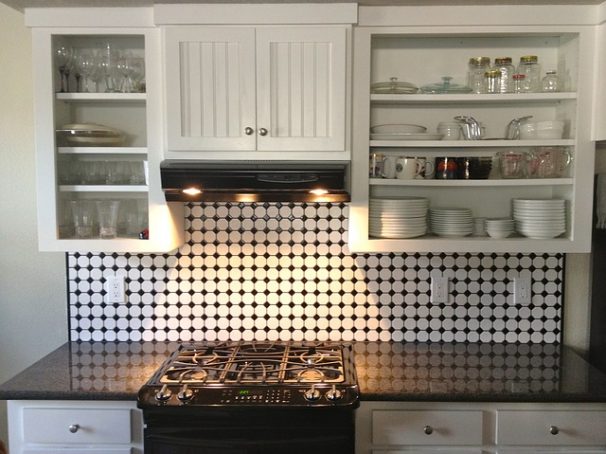 1. Reclaim Your Counter Space
Countertops are meant to be a workspace. When space is at a premium, you want it to be open for food preparation; not cluttered with appliances and other kitchenware.
One of the easiest ways to make a small kitchen larger is to declare war on countertop clutter. Move your microwave oven onto an open shelf above the counter (the same goes for slow cookers, blenders, and standing mixers). Store your knives on a wall-mounted rack instead of a knife block (which is also way more sanitary). Swap your dish dryer rack for a tiny, portable dishwasher you can stow under the sink.
2. Embrace Open Shelving
Kitchen cabinets come with pros and cons. On the upside, they protect your dishes and cookware from dust; on the other hand, they close off a lot of space in the top half of your kitchen. When your kitchen is small, the airiness of open shelving often outweighs the benefit of keeping things behind closed doors.
The key to succeeding with open shelving is organization. Place your most-used items on the lowest shelves, occasional items in the middle, and things you rarely use on the very top shelf. You can add decorative items here and there, like vintage canisters or cookbooks, for visual appeal.
Not sure if open shelving will work for you? Try removing a few cabinet doors as a temporary test-run. You can always re-attach them if you find it's not for you.
3. Leave Room to Breathe
Don't underestimate the power of negative space. The gaps between appliances and décor items can speak volumes, especially when it comes to small spaces. Leaving room to spare gives you more breathing room, but filing every inch of space makes your small kitchen feel even more cramped. Taking a page from the Scandinavian design book is one way to make your small kitchen larger.
4. Downsize to Apartment-Size Appliances
You can't get around the fact that the refrigerator occupies a big slice of your small kitchen…or can you? When you're working with an apartment-size space, it pays to downsize apartment-size appliances.
Thanks to the tiny house movement, small appliances are more functional and stylish than ever. It might be a bit of an adjustment but switching to apartment-size appliances gives you so much more room to work with!
5. Light It Up
If your kitchen is small to begin with, dark corners will make it feel even tighter. Use ample lighting to ensure the room is both functional and welcoming! If installing additional lighting is not an option, make the most of what you have by keeping your windows and light fixtures clean. You could also add mirrors to the kitchen to help bounce light around the room.
More Big Ideas for Small Spaces
We're pretty smitten with small spaces. Check out some of our other posts about making the most of what you have.